Getting Started with Video in Blackboard
Blackboard offers the option to upload and host recorded videos in a course for students to view. You can use Kaltura (or Panopto) to record mini lectures from your office, from home, or from the Center's self-recording studio. Audio or video files can be recorded and uploaded straight into your course, by using the Kaltura plugin in Blackboard. Visit the video & multimedia page to learn more about the many options and services available.
The CTI Tech Lab also offers digitization services for media that needs to be loaded on to a computer at no cost to faculty and academic staff in support of a course.
Important Note Regarding Ownership of Media: It is important to realize that Kaltura media is owned by one person and not the course. Ownership rights allow you to edit, delete, and reuse content. Therefore, if your teaching assistant (TA) uploads media into the course, they are the sole owner and others will have limited access to the materials. The Center can transfer ownership to an instructor and recommends that this be done to avoid potential problems. Please contact us at acadtech@cornell.edu.
Kaltura's My Media Collection
When you upload a media file in Kaltura or Blackboard, it goes into your personal collection called My Media. You can then put My Media files into specific courses in Blackboard.
A few things to consider about Kaltura's My Media collection:
A file in My Media can be used in several courses. You can put a link to a media file directly into a course or you can share it to the course's Media Gallery.
If you change or delete a file in My Media, all the courses linking to this file will be affected.

If you delete the file, the link in the course will remain but it will not work and students will get a "media unavailable" error message.

Removing a media file link in a course does not delete the file from your My Media collection.
The Media Gallery in a course is useful when you want to make the file available for others to use in the course. Course builders, TAs, and other instructors can then place the file in different locations in a course. You can also give them the ability to edit the file, this is particularly useful if they will be involved in uploading media files.
Uploading Recorded Video
To upload media files to your Blackboard course, locate Tools in the content menu and then Kaltura Media.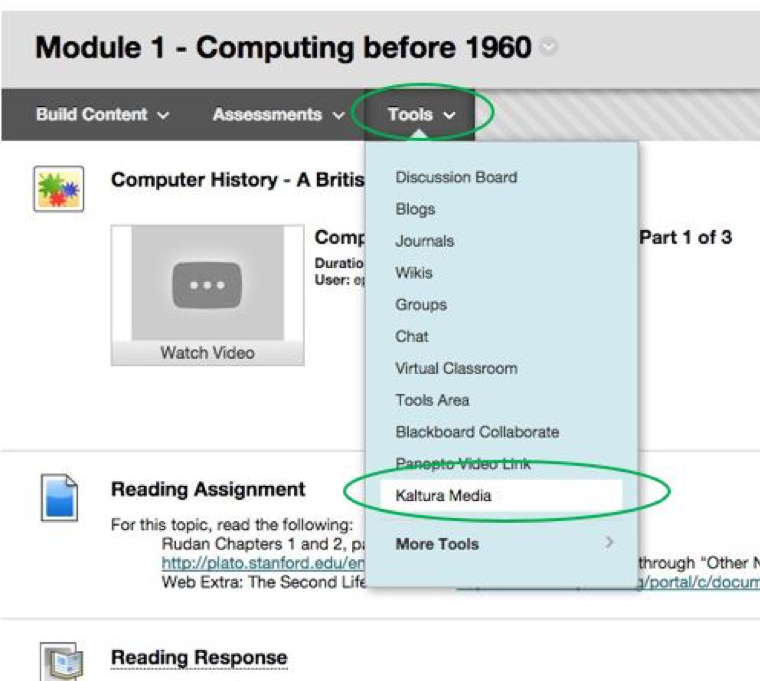 The Kaltura Media tool allows you to record a webcam video, upload a new video, or reuse a previously uploaded video to your Blackboard course. Further instructions for each can be found in the sections that follow.
To Record from Your Webcam
From the My Media screen, choose Webcam Recording from the Add New menu.
A popup window will ask you to allow the use of your webcam. Your internet browser must support Flash Media Player to be able to record with a webcam.
Click anywhere on the video screen to start recording.
When finished, name your video and click the Save button.
To Upload new Media
From the My Media screen, choose Media Upload from the Add New menu.
Select Choose a file to upload and browse your computer for the media file you would like to upload.
Enter title, description, and tags before selecting Save.
Click Back to Browse and Embed and you will see the file that was uploaded at the top of the media list.
To Reuse Uploaded Content
Now that your media has been uploaded, you can place it in your Blackboard course.
Select the video you would like to add from the My Media list by clicking the Select button. If you have just recorded or uploaded a new file, it will be first in the list.
The Blackboard content screen will appear. Enter title, description, and display options. Then click Submit.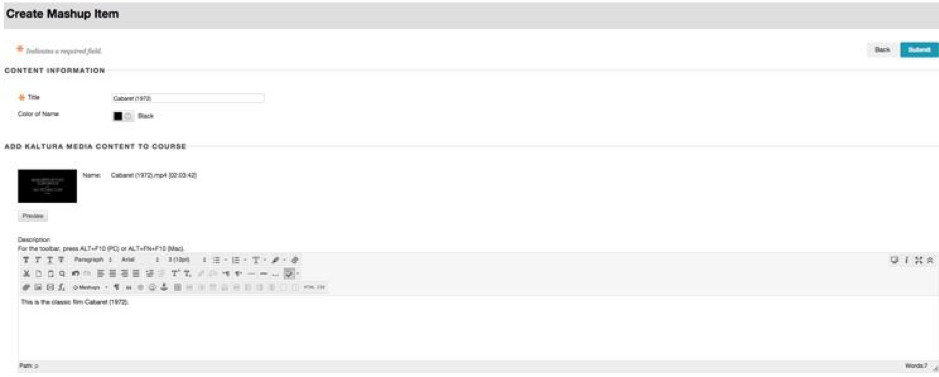 Students will see the link in the course content area and the video will pop up in a new window when they click on it.
Reminder:  Don't forget to check that your material is free from Copyright restrictions.