Teaching & Learning in the Diverse Classroom MOOC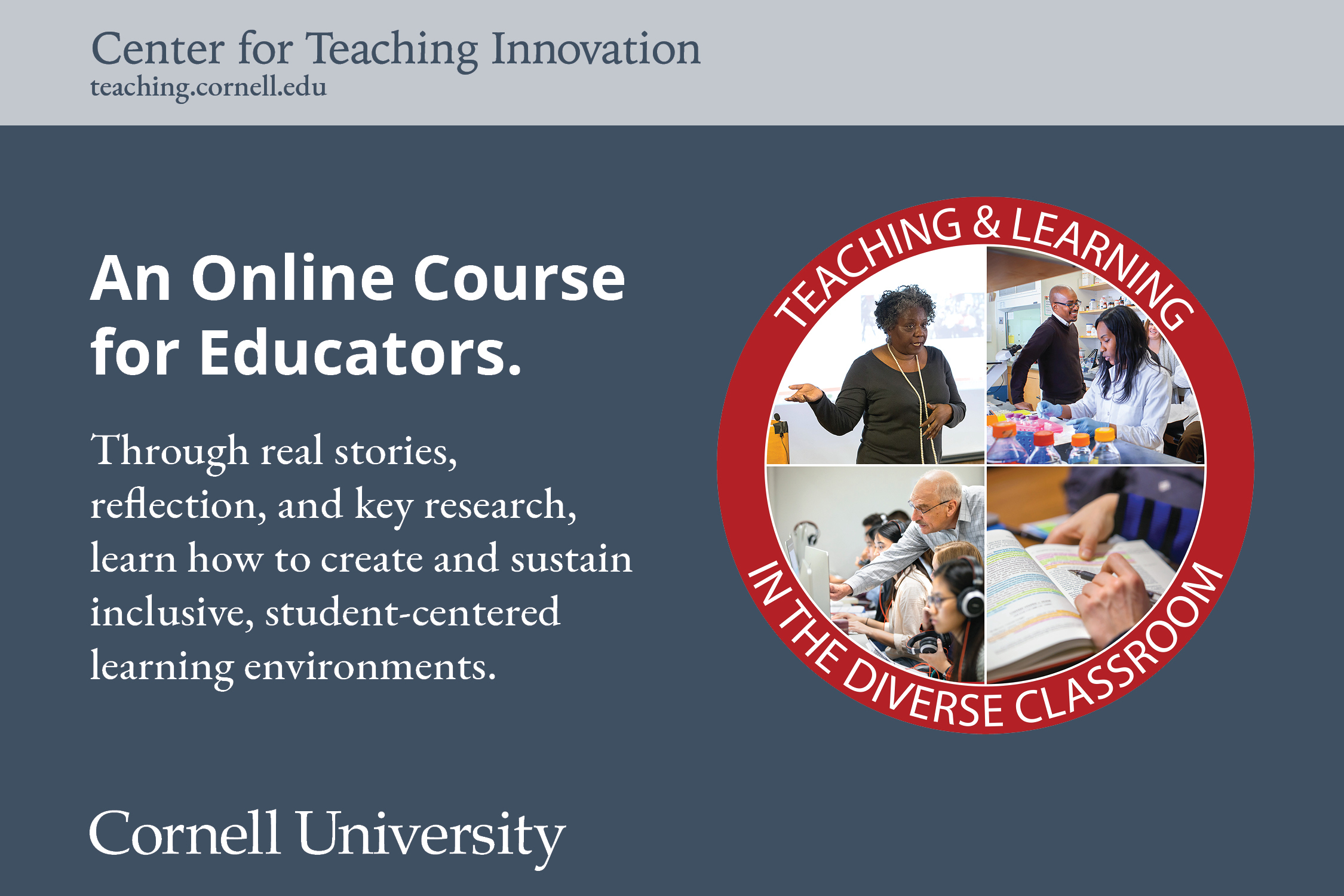 "Seeing students reflect on what has worked and what hasn't worked for them in the classroom was powerful and is what continues to resonate with me...One concept I took away: In order to meet the students where they are, you have to know where you are." 

—Sarah Wolfolds, Assistant Professor and Andrew M. Paul Sesquicentennial Faculty Fellow at Cornell
Cornell's Center for Teaching Innovation is offering Teaching & Learning in the Diverse Classroom as a massive open online course (MOOC) on the edX platform.
The course is self-paced, so you can enroll at any time.
We encourage you to take the course with a friend or group of colleagues. This could be your department, teaching team, or other learning community. Our course designers were selected as winners of the POD Network 2020 Innovation Award for the learning community facilitator's guide.
If your campus or institution is interested in forming a faculty learning community or cohort-based learning experience, please share your contact information to receive more information, including a coordinator's guide.
For maximum flexibility in facilitating a learning community experience at your own pace, we recommend learners enroll in the verified track. With the verified track, you will also have access to course materials beyond the course end. Participants in the audit track do face the limitation of having access to the course for only 5-weeks from the point of enrollment.
About the Course
U.S.-based and higher education-centered, the Teaching & Learning in the Diverse Classroom MOOC is a self-paced online course for anyone with teaching responsibilities, at any level of diversity expertise. Modules explore strategies for inclusive course design, social identity and self-reflection, and pedagogical practices that effectively support student engagement and a sense of belonging across difference. The course is:
Designed for anyone teaching, across all disciplines

Open to all experience levels—no expertise in diversity necessary
Approximately 2-4-hour weekly time commitment
This is a self-paced course (enroll any time and work on your schedule)
The course includes videos, activities, readings, and opportunities for reflection. You will explore:
Your own formative experiences as learners, teachers, and members of disciplines 

A framework for inclusive course design and related resources
Strategies and exercises helpful in communicating effectively, facilitating discussion, and modeling inclusivity when unexpected issues arise
Opportunities to reflect on the implications of social identities — both students' and instructors'— within the teaching and learning environment
Evidence-based learning strategies
Learning Outcomes:
If you complete the course, you will be able to:
Use a framework for inclusive course design

Reflect on the implications of social identities—both students' and instructors'—within the teaching and learning environment
Identify evidence-based pedagogical strategies you would like to try
Increase your confidence to model inclusivity and facilitate discussion when unexpected issues arise, and
Assess your curriculum and discipline to identify historical patterns of exclusion and inclusion and discipline-specific approaches to thinking about diversity, equity, and inclusion.