Graduate Students & Postdoctoral Fellows
The Center for Teaching Innovation promotes best practices in teaching to support excellence in undergraduate learning at Cornell and beyond. We can support you in designing and implementing the best learning opportunities for your students, and prepare you for future teaching-related endeavors. Where do I start? 
Our programs for graduate students and postdoctoral fellows will help you:
Use effective teaching practices based on research on how people learn
Establish an inclusive, caring, and fair learning environment 
Apply the backward course design process to develop appropriate learning outcomes, assessment, and course activities to achieve curricular alignment
Explore innovative teaching strategies to foster student engagement, self-efficacy, and creative thinking 
Communicate with clarity and confidence as an instructor
Articulate your teaching values and methods and how they have changed over time to improve learning outcomes
Value perspectives on teaching that come from working with colleagues across disciplines
Explore Our Programs
Developing Your Teaching Journey
Our approach to teaching is anchored in five elements: innovation, diversity, evidence-based practices, assessment, and technology. Through our programming, you have the opportunity to learn more about how people learn, explore evidence-based teaching strategies, develop pedagogical skills, and reflect on and document your teaching journey at Cornell.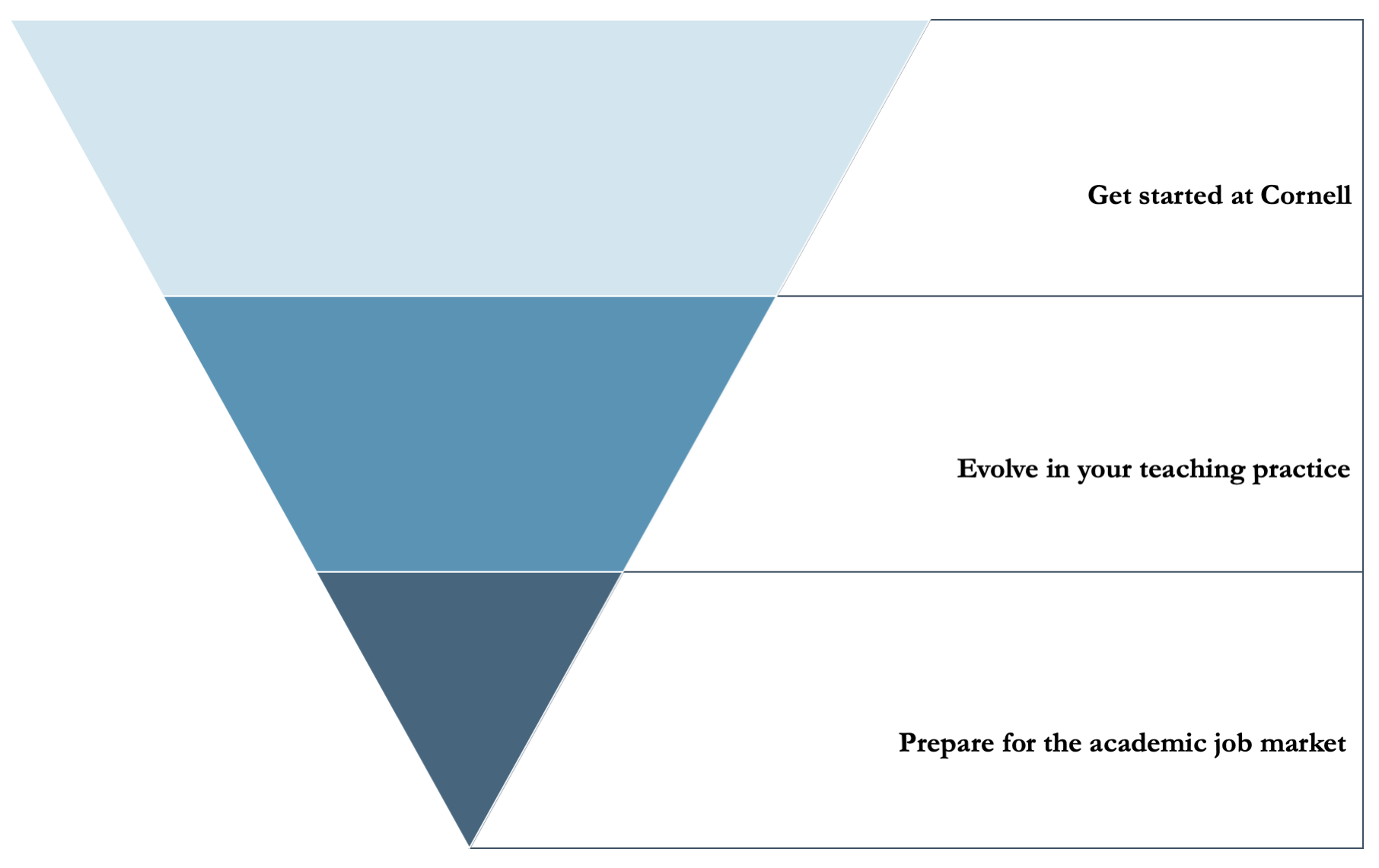 Getting started: If you are preparing to teach your first class the following programs will help you prepare for future teaching opportunities:
Evolve in your teaching practice: As your interests develop, explore programs targeted at specific aspects of teaching:
Prepare for future teaching opportunities: If you anticipate a future teaching-related role or faculty career, the following programs will help you deepen your knowledge and communicate your teaching experiences and approaches: