Teaching Portfolio Program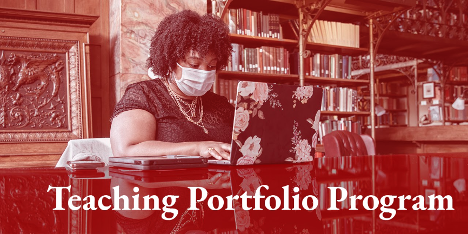 Building a teaching portfolio gives you the opportunity to stand back from the actual performance of teaching, curate representative materials from your teaching experience, reflect, and articulate what you have learned about how people learn. Teaching portfolios are often used to present potential employers with a concise overview of your teaching experience, skills, teaching and diversity philosophies, and goals.The CTI Teaching Portfolio Program is a self-paced program designed to help graduate students, graduate teaching assistants, and postdoctoral associates:
engage in the process of selecting connecting, and reflecting on their teaching development and growth
identify and access development opportunities related to their current teaching responsibilities
prepare for future career goals that may include teaching responsibilities
Program components
Registering in the Teaching Portfolio Program offers you support for charting your teaching development at Cornell, and organizing, selecting, and reflecting on your practice to showcase your skills to future employers.
When you register, a CTI consultant will:
meet with you to ascertain your goals and suggest points of entry and development
orient you to the support offered at Cornell, both through the CTI and through our partners across the university 
consult to help you develop and review your portfolio
Professional development opportunities
In addition, by participating in the Teaching Portfolio Program, you will have access to a wide range of professional development opportunities:
courses, workshops, institutes, conferences, and other programs

additional opportunities, such as: classroom observations, mid-semester feedback support, and individual consultations with CTI experts
a cohort of peers with similar interests in teaching
the opportunity to build your online teaching portfolio, based on your experiences and reflections
approaches for reflecting on your teaching experience and the preparation to talk about it
Getting Started with the Teaching Portfolio Program
The Teaching Portfolio Program is open to all Cornell graduate students and postdoctoral associates at any stage of their career. We encourage you to start early with the process of developing your Teaching Portfolio.
How to register
To register for the Teaching Portfolio Program, please complete this form. If you have questions or would like further information, please email Derina Samuel.